Dry Cleaning, Laundry and Textile Restoration Services – Smoke, Soot & Odor Removal – ServiceMaster Restoration By Simons
ServiceMaster Restoration By Simons, Chicagoland's Trusted Name in Fire Damage Restoration and Smoke & Soot Removal, Provides Laundry, Soft-goods, and Textile Cleaning and Restoration Services. Call 773-376-1110
Fire Damage and Water Damage not only affects the structure of your Chicago home but also damages the contents inside your home. In homes, many of the "soft-goods" including clothing, bedding, upholstered furniture, and draperies may all become damaged during a Fire Damage or Water Damage, and require cleaning and restoration by an IICRC Certified professional. Fire Damage and Water Damage can cause both staining and lingering odors in fabrics and other material, and the specialized textile restoration technicians at ServiceMaster Restoration By Simons have the skills and experience to clean and restore your items to pre-loss condition-FAST!
Who Can You Call When Your Textiles and Soft-goods Have Been Affected?
When your home is affected by fire damage or water damage, the last thing you want to do is laundry. Leave this task to our professionally certified team. Our trained technicians have been educated on proper cleaning and restoration of all different types of material and can prevent further damage to your belongings. Our staff also has the appropriate and useful equipment to restore your belongings to the pre-loss condition. As an IICRC Certified Master Textile Restorer, you can count on ServiceMaster Restoration By Simons to restore your property and your belongings.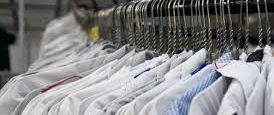 Remember to let our professional team of restoration technicians, help you go through your contents, and decide if they are salvageable or not. You may end up discarding some of the items that are easily restorable without knowing it. Our team will know which items we can save and which items we can't. We will help you through every step of the restoration process.
Count on ServiceMaster Restoration by Simons for Your Soft-goods and Textile Restoration Needs!!  ServiceMaster Restoration By Simons believes in complete restoration services, which is why we offer laundry and dry cleaning services for Chicago homeowners following a disaster.
Call Our Professional & Certified Team Today at 773-376-1110 or CLICK HERE to schedule a quote and/or service.