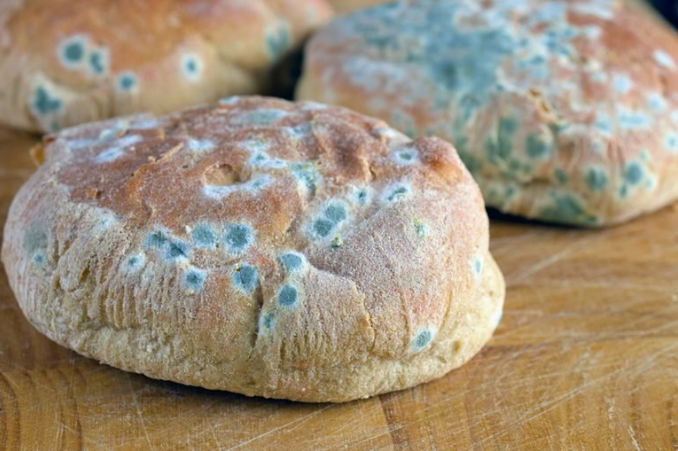 One day you're ready for lunch and open a package of bread. But after pulling out a couple of slices, you see a green fuzz along the edges. At this point, people usually have one of two reactions:
1. they lose their appetite and toss the loaf
2. they cut off the offending growth and make a sandwich
But is the second option safe?
It depends. For instance, molds grow in threadlike shapes with roots that branch out. So, in softer foods (such as bread) and those with a higher moisture content (such as yogurt and jarred or canned goods), it spreads faster since it's easier for mold to penetrate more deeply into soft foods versus harder foods. The same is true for meat and poultry. In those cases, the food should be discarded.
Some foods, such as firm fruits and veggies (think: carrots and cabbage), hard cheeses, salamis, etc., can be salvaged by cutting "at least 1 inch around and below the mold spot," according to the USDA. Just be sure to keep the knife out of the mold so you don't spread the yuck.
What Happens if You Accidentally Eat Mold?
Don't panic, you're probably okay. Although mold is a tricky organism with the potential to cause disease, "You're not going to die from eating mold," says Dr. Bedford, MD, a gastroenterologist at Providence Saint John's Health Center in Santa Monica. As long as your immune system is healthy, you can digest it like other foods.
After all, molds are meant to be on certain foods—including dry-cured country hams and cheeses such as blue cheese, Gorgonzola, Brie, and Camembert. In many of these cases, mold is safe to eat, the USDA says. But if you've ingested mold and you have a weak immune system or a history of asthma or allergies, you may want to call your doctor and seek treatment. Even then, Dr. Bedford recommends waiting to see if your symptoms escalate beyond nausea before rushing to call the doctor. "The stomach is a harsh environment, so, for the most part, most bacteria and fungus won't survive," he explains.
How to Prevent Mold from Forming in the First Place
Since warm, humid conditions encourage mold growth—and dry mold spores float through the air searching for new places in which to grow—the USDA recommends a few best practices for keeping mold from messing with your food:
Inspect foods for mold before purchasing
Buy food in small amounts so mold doesn't have time to grow
Cover food with plastic wrap
Store food in the refrigerator quickly
Eat leftovers within three or four days
Clean your refrigerator frequently
Keep your home's humidity level below 40 percent
Of course, molds can still grow in the refrigerator (though much more slowly) but following these guidelines can help keep your food fresh and fuzz-free for as long as possible.
What Mold Should I Be Concerned About?
There are over one hundred thousand species of mold. Some molds produce compounds known as "mycotoxins".  Some mycotoxins, such as penicillin, are useful to mankind. Others can be deadly. Also, you can't go by the color of mold (i.e., black mold) as many species are the same color, some of which do not develop mycotoxins.
There's no way of knowing by sight whether a mold is safe or harmful. "You don't know what mold you actually might be eating," says dietitian Lillian Craggs-Dino, DHA, RDN, LDN. "Some molds can actually be very, very toxic to human beings. They can also cause allergic reactions and respiratory problems." The same can be said for mold that's growing in your basement.
That's why if you see an infestation of mold growing elsewhere than on food in your Chicagoland home or business, you must have it remediated immediately. Call ServiceMaster Restoration By Simons. Our experienced mold removal restoration technicians along with our advanced industry technology will assess the extent of your mold removal needs and get to work.
About Us: ServiceMaster Restoration By Simons, is a SB100 Best of Small Business Award Winner 2021, Bronze Stevie® Award in the Female Entrepreneur of the Year category in the 18th annual Stevie Awards for Women in Business, recipient of the 2020 Better Business Bureau's Torch Award for Marketplace Ethics, and recipient of the 2020 Skokie Business of the Year Award, Honorable Mention Category. ServiceMaster Restoration By Simons (MBE/WBE) is a family operated, IICRC & OSHA Certified company serving Chicago, Oak Park, River Forest, and the North Shore. We provide commercial disaster restoration services including Water & Flood Damage Restoration, Fire & Smoke Damage Restoration, Mold Remediation and a wide range of interior specialty cleaning including COVID-19 Cleaning Services, Hoarder & Clutter Cleaning, Post-Construction Cleaning, Carpet & Upholstery Cleaning to residential and commercial customers. For more information, call 773-839-5542 or visit www.servicemasterbysimons.com or info@servicemaster-rbs.com